Want your Hikvision security or CCTV camera to work with Alexa? Making a security camera work with an Alexa device means you can control the security camera through voice commands.
If your Alexa device also has a screen like an Echo Show, you can use Alexa voice commands to allow the Echo show to work as a nursing camera or as a video camera for the CCTV.
Further reading: How To Use Echo Show As A Security Camera
What is Hikvision?
Hikvision is a Chinese company that is known for manufacturing surveillance products of sorts. It is a leading supplier of IP cameras, video recorders, CCTV cameras, video intercom, web cameras, and more. However, the CCTV cameras and other video surveillance products manufactured are not smart products.
Can they still be made to work with Alexa? Let's find out.
Do Hikvision Products Work With Alexa?
Not all but some of the Hikvision products can work with Alexa. Hikvision's network cameras are equipped with some smart features that allow them to work with Alexa through a workaround.
It is not easy for a commoner to make this possible. However, here are step-by-step instructions on how you can make it work.
The magic skill for making Alexa work with Hikvision is Monocle. Monocle is an Alexa skill that is free to enable on any Alexa device. Like any other Alexa skill, this skill can be enabled using the Alexa app and going to the Skills sections within the app.
What is Monocle?
Monocle is a service that bridges the gap between your IP-based network cameras and smart hem devices like Alexa. It acts as a gateway service to connect the two using the internet or own network.
For this, you need to have both Alexa's voice-enabled device and RTSP/RTP network-based camera connected to the same private network.
Monocle can work on Amazon Echo Spot, Amazon Echo Show and Amazon Fire TV Stick, and a few other Amazon products. The other requirement for Monocle to work depends on the network camera's max resolution and gateway requirements.
Hikvision's one of the network PTZ cameras fulfills all the requirements to work with Monocle skills.
Steps To Follow:
Create a Monocle account
The first thing to do is create a Monocle account on www.monaclecam.com. After filling in the required information, sign in to your Monocle account.
Add camera feeds
Once you sign in, you will be asked to fill in your camera feeds i.e. the network cameras. For finding the camera feed for your respective Hikvision network camera, you can log in to your Hikvision user account to know its configuration.
You also need to add the RTSP/RTP camera feed URL. You can find the link to your network through the Monocle website as well. Keep authentication as DIGEST under the authentication section when filling the camera feeds.
Adding Monocle Alexa skill
Now, after the camera feed is successfully completed and it lists down your Hikvision network camera, it's time to add the Monocle skill. This is super easy to follow.
Download the Alexa app on your mobile device through which your Alexa device is connected. Now, under the Alexa app, go to the Skills option from the menu. Search the skill 'Monocle' under the search browser. It is a free skill. Click on Enable to enable the skill. You will be asked to log in to your Monocle account. Do so by filling in the credentials. After signing in, the Monocle and Alexa accounts will be connected.
Discover devices
This will be promoted automatically after linking Alexa to the Monocle account.
Click on Discover Devices and allow Alexa to discover the smart home devices in your home. This will show camera feeds available. Each of the cameras is shown with a camera icon. You can also manually add the camera device by clicking on Add device as well. Choose the respective camera to move forward.
Voice command Alexa to show the camera
After adding the Monocle skill and discovering the cameras, the user now has to command Alexa to show the camera feed.
For this, the Alexa voice commands that work include (for instance, for showing Hikvision network camera):
"Alexa, show my Hikvision's network camera feed"
"Alexa, show my feed from the Hikvision PTZ camera"
"Alexa, hide the feed from Hikvision mini PTZ camera"
"Alexa, hide the feed from my Hikvision camera feed."
i.e. Alexa, show/hide my (camera name) camera feed.
If your camera name is too long, you can change the camera name in the Alexa app itself.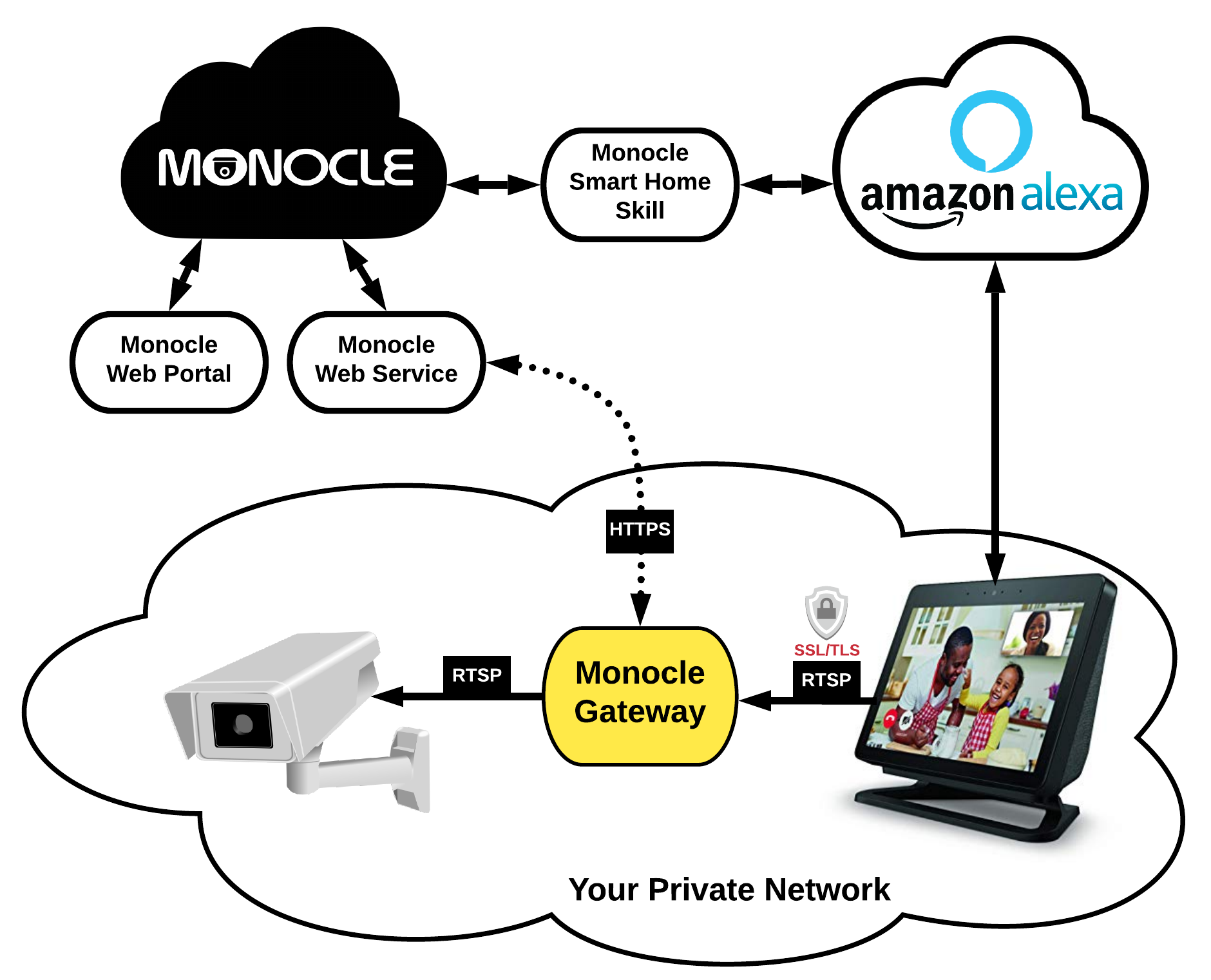 You may also like: Does Reolink Work With Alexa
When Monocle Gateway Is Required
If you use an Alexa device like Echo Show with the latest versions, you also need a Monocle gateway service.
This may also be one of the reasons why your Echo Show is not working with your Hikvision camera.
To make it work, you simply have to download a gateway service on your local computer. You can download the Monocle gateway service through the Monocle website itself. It also troubleshoots all other queries related to compatible computer operating systems it is compatible with.
Depending on if your computer/laptop has a 34 bit or 64-bit operating system, download the respective Monocle Gateway. Edit the Monocle camera feed as well. Change the Tags to @tunnel.
Now, visit your Monocle portal and find API tokens. Extract the tokens by filling in your user information and saving the token on your computer.
Now run the Monocle gateway downloaded on your computer. For this, press the Windows + R key. In the popup box, type cmd
Type Monocle-gateway.exe to run the Monocle gateway.
You ask Alexa to show the Hikvision camera on the camera feed, and you would be able to see the camera feed over your Echo show device.
Conclusion
Hikvision does work with Alexa with the help of Monocle Alexa skills. The process is long, but with the help of the Monocle website and Alexa app, the process is easy to follow and accomplish.
If you have an Echo Show (all generations), Echo Spot (1st generation), Fire TV Stick, Amazon Fire tablet, or Fire TV Cube, you should try this solution.