Sonos Beam is an impressive Hi-Fi speaker that is packed with many features. It's just one among the many models of Sonos speakers, all of which boast of rich audio quality, smart features, and unparalleled sound experience. Sonos is not the first brand to bring in Hi-Fi speakers into the market, but it's undoubtedly one of the best. Those who have used Sonos speakers speak highly of their products, as the quality of their speakers truly justifies their excellent reputation.
However, there are some queries and suggestions that most users have shared. And one common question that many Sonos users ask is how they can turn off the speakers. So we have put up this post especially for the Sonos Beam speakers, where we will give a short review on the speaker itself and, most importantly, explain what options you have to turn off the Sonos Beam.
What Is Sonos Beam And What Are Its Features?
Sonos Beam is a part of the large family of smart Sonos speakers. Before we explain the features of Sonos Beam, we will briefly go through Sonos speakers in general.
Sonos speakers are wireless audio devices that connect directly to your Wi-Fi network. While each of their speakers can be used individually, their main highlight is that they are designed to work together as a network of speakers. You can place various Sonos speakers in different areas of your house and control them all from your smartphone with the Sonos app.
Since they are all connected to the same Wi-Fi network, you can play the same audio from all devices or play each device separately in their respective rooms. So these speakers have the power to turn your entire home into a powerful sound system.
Now let's take a brief look at the Sonos Beam. It has an elongated bar-like shape and is mainly designed to work with TVs even though you can connect it to your phone or other devices as well.
Sonos Beam is equipped with Speech Enhancement technology that amplifies the human voice, so it's perfect for watching movies and focusing more on dialogues. The sleek and smooth design makes it aesthetically pleasing too, so it will look really fancy when placed in your room. And it supports voice assistant integration to let you control the device hands-free with Google Assistant or Alexa.
Suppose you are interested in the detailed specifications of this speaker. In that case, you'll be pleased to know that it consists of four-woofers, five amplifiers, three radiators, and one tweeter – all tucked compactly inside the speakers. The result is that you get clear and powerful sound, enhanced human voice audio, and deep bass. Now, none of the Sonos products can be labeled as 'cheap,' but Sonos beam is definitely one of the reasonably priced Sonos speakers. In fact, they are one of the cheaper options among all Hi-Fi speakers in general.
Does Sonos Beam Have A Power Switch?
Sonos Beam, just like all other Sonos speakers, does not have a power switch. They simply have a power cable, and the speakers turn on as soon as you plug in the cables. Many users have expressed their desire for a power switch to be added in future updates. Sonos has stated that their speakers are designed to be left plugged in at all times, and they go into a standby mode when no audio is playing. When in standby mode, these speakers are designed to consume extremely little power. A probable reason why Sonos has added a power button could be because these speakers take about a few minutes to boot and connect to the system, so turning them on and off multiple times would be quite an inconvenience.
Note: Sonos Move is the only product that has a power switch, and it's also the only Sonos speaker that supports Bluetooth connection.
Do I Need To Turn Off My Sonos Beam?
As we already mentioned, Sonos Beam and all other Sonos speakers, in general, are not designed to be turned on and off regularly. They are meant to be left plugged in but in standby mode when not in use. You need not worry about power consumption either as they use minimal power when not on standby.
But there can be many cases where you might need to turn off your Sonos Beam completely. For example, when you are not at home for a long time like a vacation or business trip, or if you are shifting homes. The most common case where you will truly miss having a power button is when you want to switch the audio output from your Sonos Beam to your TV's internal speakers.
Once your Sonos Beam is connected to your TV, you can't go back to the TV's speakers without turning off the Beam. And since there is no power button, what option does that leave you with it? So let's answer this common question that Sonos users very often.
How To Turn Off The Sonos Beam?
Getting straight to the point, the only method of truly turning off the Sonos Beam is to unplug its power cable. That's the one and the only option you have due to the lack of a built-in power switch. It may not be much of a big deal for one or two occasions, but how practical is it to unplug the speaker's time and again in the long run? Not very much at all.
When you unplug the Sonos Beam, it will take some time to power up again when you turn it on later. And every time you power it up again, you need to redo the settings on your TV to re-establish the connection. That is why unplugging them time and again is not a practical solution. A better solution and the best bet you have is installing a switch between the HDMI line that connects the Sonos Beam and your TV.
Of course, it would be a lot more convenient to have a power button in the speakers simply. But it's not a huge inconvenience and definitely not a deal-breaker. After all, having your TV connected to the Beam at all times is not a bad deal as the Sonos Beam is certainly much better than the TV's internal speakers anyway.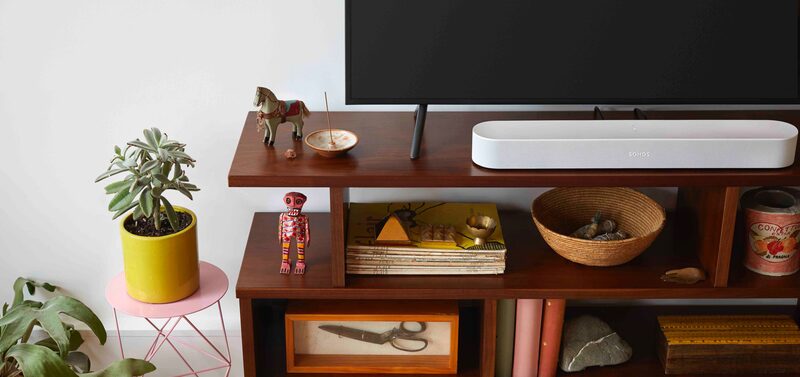 Final Notes
If you were looking for a convenient solution to turn on and off your Sonos Beam as and when you pleased, you might be a bit disappointed. At the very best, our suggestion to add a switch between the TV and speaker connection will provide you a little more flexibility and convenience. However, you should overlook this minor drawback when you think about all the other impressive features and especially the powerful sound quality of the Sonos Beam.